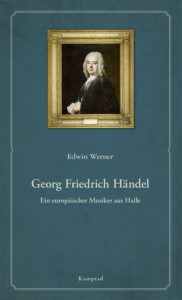 Dr. Edwin Werner, long-standing director of the Händel-Haus in Halle and honorary member of the Georg-Friedrich-Händel-Gesellschaft e. V., has now written a biography of Handel. It has recently been published as a joint edition by the Verlag Klaus-Jürgen Kamprad and the Freundes- und Förderkreis des Händel-Hauses zu Halle e.V. and with kind support of the Stiftung Händel-Haus.
"This popular science biography of George Frideric Handel aims to bring the great composer from Halle an der Saale closer to interested readers and to outline the main lines of the European reception of Handel."
The pocket-sized book is warmly recommended to the Handel friends near and far.
Enjoy reading it!